Music Quiz Questions with Answers
Latest Quizzes
Our most recent quiz rounds
At Pub Quiz Questions HQ there's few things we enjoy more than a music quiz. To show our love, we've written hundreds of categorised music trivia for every decade dating back to the 1950s and made them available for free on this page.
Starting with the 1950s, running right through the 2020s, we've written questions covering a range of genres, from pop music to classical music. We cover all styles, from solo artists to rock band, from musical instrument to music video. We even have a trivia question set on musicals and rounds like Guess the Song Title and the UK Chart.
So if you know the lead singer of Fleetwood Mac, who's the oldest Spice Girl, who was the youngest of the Bee Gees, which solo artist has the most Brit Awards, who headlined Glastonbury Festival's pyramid stage in 1987, which Beatle leads the way crossing Abbey Road, the name of Oasis' debut album or the opening lyric to Bohemian Rhapsody, we'll have a music question for you!
Grab a set of questions to use in your next virtual pub quiz.
Music Sub-categories: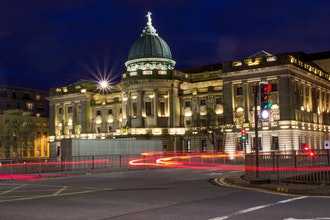 22 music quiz questions related to Scotland
More Music Questions
Even more Music quiz rounds